Creative Matakana is over for 2019, but feel free to browse our 2019 courses. 2020 information will be online by the end of November – if you'd like newsletters straight to your inbox, hit the 'Subscribe' button above right!
subscribe above or Like us on Facebook for updates!
Five-day courses in 2019
The five-day workshop mix for 2019 was a beauty - but wait and see what we've got for you in 2020! All will be revealed by the end of November…
Please note: due to popular demand, the Windsor chair workshop is our only seven day course, from Saturday May 4 to to Friday May 10. All others listed here are five days and run from Monday to Friday, approximately 10-4 each day.
301. Making a Windsor Chair
Tutor: Richard Hare | Fee: $775 (Incl materials $75)
Please note: the Windsor chair workshop is is the only one which is seven days long, from Saturday May 4 to Friday May 10.
A Windsor chair has a sculpted, solid timber seat to which the legs (usually turned) are joined from below. The top, consisting of spindles and a steam-bent back, is joined to the seat from above. Windsor chairs were produced in great numbers during the 18th century in Britain and North America.
You will be making this chair using hand tools and pre-Industrial Revolution techniques. Starting with a freshly felled log, you'll split out stretchers, legs and spindles and use a foot-operated pole lathe to turn the legs and stretchers. You will steam-bend the back bow and bore and shape the solid elm seat, using traditional tools. Finally, you'll put it all together – and we're sure it will become a family heirloom. While this is a fairly demanding project physically, Richard has successfully taught people aged from 16 to 82 years.
Richard's Bio
With a background in (and passion for) building and furniture making, Richard attended a greenwood chair-making workshop at Ironbridge, England in 1995. He became passionate about these chairs, the methods of making them and the tools used. In 1998, he established Traditional Greenwood Chairs and, along with other woodwork, has crafted more than 700 of these chairs and taught over 200 people at workshops throughout the South Island, Australia and Norfolk Island.
302. writing WELL
Tutor: joe bennett | Fee: $500 | may 6-10
Joe Bennett has this to say about what will happen in his writing course: "We'll look at good writers to identify the things they have in common. And we'll look at bad writers to see what they do wrong – and to laugh at them. And then we'll try to put the good things into practice and avoid the bad things."
Whether you write for pleasure or for work, whether you plan a novel or a blog, or whether you're just interested in language, this is a course for anyone who wants to write better.
Bring good humour and whatever you like to write with.
Joe's bio
Joe Bennett was raised in the UK, read English at Cambridge University and has taught English in a variety of countries. He came to NZ for a year in 1987 and never left.
After teaching for ten years, he gave it up to make his living as a writer. He has since written over 2000 newspaper columns, and 11 collections of his columns have been published – all with dog references in the titles (he's very fond of them). He's had over 20 books published, seven of them world-wide.
Joe has been judged NZ Columnist of the Year four times, and Qantas Media Awards Columnist of the Year three times.
303. Watercolour painting | may 6-10

Tutor: bernadette parsons | Fee: $450
Watercolour is an exceptionally versatile medium. Beautiful light effects and flowing washes can be achieved by knowledge of how to control pigment and water.
Bernadette Parsons is an extremely experienced tutor. "The joy of watercolour is something I would love to share with you," she says. "It's a medium that can't be challenged, but when worked with knowledge and confidence it can create spontaneous, exciting happenings which enhance all its qualities: transparency, movement and above all, atmosphere. Every day I'll demonstrate and help you through at least one painting, sharing knowledge and technique."
Most of the workshop will take place in the historic Whangateau Hall, but there will be also be opportunities to work outdoors in the beautiful surroundings of Matakana (weather permitting).
Bernadette will ensure the workshop suits all levels of painters, from the beginner to the experienced.
bernadette's Bio
Bernadette Parsons is one of New Zealand's foremost watercolourists. She has been painting for 20 years and has had won many awards with her work.

Her home is in the Whangamarino Wetland area in Mercer which encouraged her to begin painting humble landscapes using the simple, fresh approach that makes her landscapes unique.

Bernadette's work is in private collections here in NZ, in Europe and in Australia, and has been included in a number of art publications.
304. sculpture: French knitting | may 6-10
Tutor: Jeff thomson | Fee: $700 (INcl materials $100) |
* SORRY - THIS COURSE IS NOW FULL - IF YOU'D LIKE TO WAITLIST IT, PLEASE EMAIL VIV AT CREATIVEMATAKANA@GMAIL.COM *
Jeff Thomson will be using a version of a childhood toy many of us will be familiar with to create a giant version of 'French knitting'. The cotton reel, with its four nails and wool, has been substituted with the round frame of a bouncer trampoline, steel pipes and thin strips of corrugated iron to 'knit' with. He also cuts shapes out of plywood and uses doweling pegs and telephone wire.
Jeff's bio
Jeff Thomson has worked predominantly with corrugated iron since he became a full-time sculptor in 1986. During this time he has used this common building material in a myriad of ways, while often exploring traditional craft techniques. He has screen-printed onto its surface, stacked it, knitted it, turned it into lace and used it to make moulds from which he casts plastic, pours concrete and even bakes bread.
One of his most well-known public works is the corrugated iron clad HQ Holden Station Wagon (1991), which he drove for three years on the roads in New Zealand and Australia, and another would be the giant tin gumboot on State Highway One in Taihape.
Thomson has exhibited predominantly throughout Australasia, Germany and France. In 2003 he was commissioned to create a sculpture for Berlin, a gift from the people of New Zealand to the people of Berlin. In 2013 the Tauranga Art Gallery instigated a retrospective of his work, Corrugations: the Art of Jeff Thomson, which toured nationally. He has several sculptures at Gibbs Farm north of Auckland, and many others in public and private collections throughout New Zealand.
Jeff Thomson is represented by Bowen Galleries, Wellington.
305. in the mind's eye: recording oral history | may 6-10
Tutor: judith fyfe | Fee: $450
This workshop is essential for anyone considering using oral history in their work, community or personal projects. It will provide information on the essentials of oral history research, including methodology, project planning, best equipment, interview techniques, legal and ethical issues and processing oral history in order to make the material available for use. There'll be plenty of hands-on practice!
Great events make history but ultimately, it's the individual's perception of events which really matters. The collection of oral testimony based on individual memory enriches the store of historical evidence to reconstruct the past, whether that past is a collective public one or a private, familial one.
All materials, including recorders, will be provided, but if you already have one you intend to use for your project, please bring it.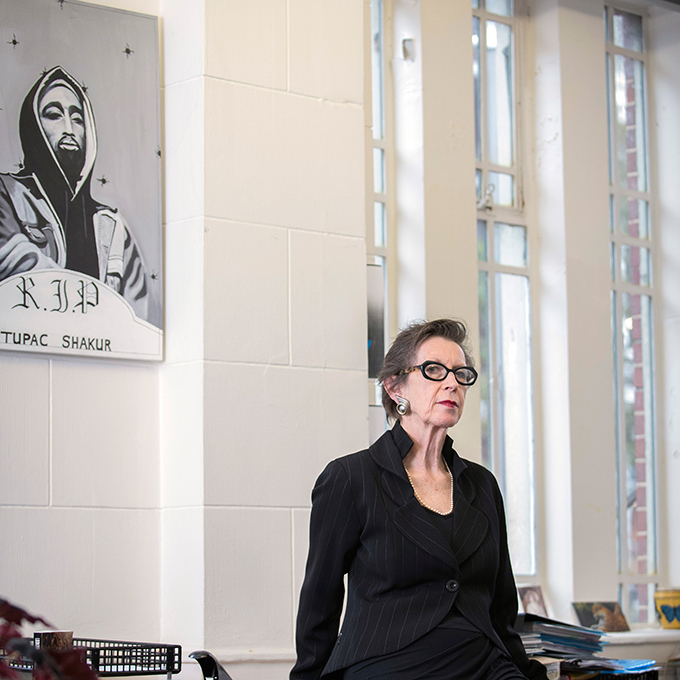 judith's Bio
Judith is a lawyer and oral historian. Currently she practises as a barrister specialising in investigation. She lectures in oral history in New Zealand and the United States and is contracted by the Alexander Turnbull Library to carry out contemporary oral history projects. Prior to founding the New Zealand Oral History Archive, she worked in broadcasting, television and film.
Her publications include The Gamble – Campaign Diary of the Challengers (co-writer Hugo Manson); The Matriarchs and War Stories Our Mothers Never Told Us; Oral History: An Introduction to Social Research in New Zealand (Editors: Carl Davidson & Martin Tolich).
Judith's assistant Lynette Shum is the Oral History Advisor at the Alexander Turnbull Library, focusing on training, advice, and support. Her master's thesis used oral history to look at the history of the Chinese community in Wellington.
307. Japanese textiles | may 6-10
Tutor: alysn midgelow-marsden | Fee: $450
Rescue, stitch, repurpose: upcycle with a Japanese twist!
Delve into clever and thrifty Japanese-inspired techniques by creating a unique bag or cloth from your scraps and discards. From the starting point of used fabrics, perhaps denim, old shirts, stained fabrics, tablecloths, vintage fabrics etc., which are no longer in use or are damaged, you will take them apart and build a new purpose for them, creating a fabric which becomes a bag.
The reusing of old textiles acknowledges their history and, in some cases, the personal value of these pieces, whilst also moving forward, giving them a new function and life.
You'll use simple hand stitch such as running stitch and darning in the form of Japanese Boro textiles and/or machine stitching to patch, join and stabilise the fabrics. Once a surface is created with subtle, intricate stitched textures, you will create a simple object such as a bento bag, a knot bag or leave the cloth as it is to become a wall piece or a Furoshiki-style wrapping cloth.
Boro textiles are probably one of the most extreme forms of 'make do and mend' fabric repairing traditions. Developed through necessity by peasant farmers and workers, the fabrics are patched and stitched time and time again creating overlapping layers of worn edges, patches and scraps of fabrics. The original pieces are now sought-after, collectible antiques.
ALYSN'S BIO
Alysn is an internationally-recognised, contemporary textile artist working in many media including metals, papers, heat resistant fabrics and stitch. She has published five books and has exhibited and taught widely over many years. She is now resident on the Tauwharanui Peninsula where her inspiration continues to be drawn from both natural forms and from her internal musings.
308. glass etching and vitreographs | may 6-10
Tutor: elizabeth mcclure | Fee: $740 (INCL. materials $50 & take-home kiT $90)
Engraving is essentially a way of translating images and ideas, patterns and decorative elements onto the surface of glass. It can be absolutely simple or extremely complex, but a reasonable interest in drawing is required for this class.
The workshop will introduce the basic techniques of glass engraving. Techniques will include diamond point engraving (using a diamond or tungsten carbide tip tool – like a pencil for drawing on glass) and variations of flexible drive engraving tools, using diamond or stone bits/burrs, as well as other basic 'mark-making' tools and techniques for glass.
The engraving work can be extended into 'vitreographs' – prints made from glass plates. This will depend upon time and level of interest. Participants will be provided with sheet glass for making these prints from glass plates.
A requirement of the class is the purchase of a basic glass engraving kit (a set of varied size and shaped engraving bits and burrs) which will be yours to take home after the class. Various other shapes and grades of diamond points and bits/burrs will be available for purchase on an individual basis as required.

Participants are asked to bring along some glass 'blanks' – plain, undecorated vessels (old jars, bottles, tumblers, glasses), both to practice on, and as the base for your finished product/s. There may be mistakes, so practice on non-valuable items is essential!
Elizabeth's bio
Elizabeth McClure is a Scottish-born New Zealand artist. Since the completion of her studies in glass at the Edinburgh College of Art in 1980, she has travelled widely gathering a broad and comprehensive knowledge of the contemporary glass movement.

Elizabeth has lived, worked, exhibited and taught in the UK and Eire, USA, Japan, Australia and has been based in New Zealand since 1993. She has received national and international acclaim for her work, which is held in private and public collections worldwide.
309. non-toxic printmaking | may 6-10
Tutor: mark graver | Fee: $650 (Incl materials: $50)
This five-day printing workshop will explore drypoint and aluminium etching in copper sulphate/salt mordant using resists and printing with Akua water-based intaglio inks. The course will cover using all techniques and processes of drypoint and etching, as well as using colour, using different types of resists (glue sticks, lip balm, packing tape, lipstick etc) and how to make editions of your prints.
There is a course outline which you'll receive when you've booked the workshop, but this will be a guide only, as Mark prefers to allow things to evolve naturally within that framework according to the particular interests and imagery of the participants.
It may be that one technique suits a particular person's work whereas another may not. The aim is for everyone to go away with a deeper knowledge of the processes, finished prints and plates that can be editioned and/or developed at a later stage.
No acids or solvents are used in these processes, and no toxic fumes are generated.
Mark's bio
Born in the UK in 1964, Mark Graver is an award-winning artist printmaker from Wharepuke in Kerikeri. He established the Wharepuke Print Studio (2005), Art at Wharepuke gallery (2009) the Wharepuke Sculpture Park (2015) and is author of Non-Toxic Printmaking (2011, London, A&C Black).
An experienced qualified art tutor he has run many international workshops, sat on printmaking selection panels in Europe, China and NZ and curated international print projects in the UK and Australia.
His work is held in public collections including the V&A Museum, London, The Ashmolean Museum, UK, and in Australia, China, Taiwan, Mexico, Europe and NZ.